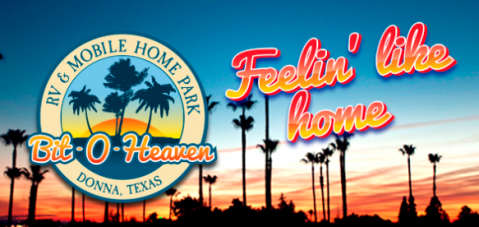 You'll notice some big changes around Bit-O-Heaven this season, starting with the introductions of our new co-management team: Rosie Wilson, Charlotte Campbell and Dora Alvarado are excited to show you what they can do ! Together they are looking forward to tackling all of your issues and needs. Please give them a chance to handle your concerns before posting on social media. I think you may be pleasantly surprised with the new attitude in the office and even happier with some surprise resident appreciation events the girls are planning.
We also made some big upgrades to the North Hall. After months of research, we found a new flooring that not only looks great, but should stand up to all the dancing and activities we give it. There are new ceiling tiles, ceiling fans, LED lighting and a bright new paint job. There is a brand new ice machine and 2 new central air conditioning units that will keep you all even cooler than you already are.
It's been a very busy summer and our thanks go out to Joe and our maintenance crew that worked so hard to facilitate all the upgrades. We have begun replacing all the old faded street signs and you will surely see the new lighted message board sign at the front entrance, so you will now have no excuse to miss an event.
We are not done yet…we should have a dog park and an RC Track completed by the time you return. We are also going to put some picnic areas (complete with a barbecue) in a couple areas of the Community as well. We will be making the 800 gate an exit ONLY gate (which I know many of you are happy about). The 700 gate will remain an enter and exit gate.
At the request of many, we will be holding off on the street naming contest until January, so everyone is back and able to participate. Remember, these street names are for fun only, and will never be used for mail purposes.
Also, we would love to have you all bring us any old license plates you may have (be sure to sign it) as we are planning to adorn the fence around the RC track and we would like your state (and yourself) to be represented. Please drop them off at the Community office.
We are so excited to see you all this winter and can't wait to hear what you think about the improvements !!
Enjoy the rest of your summer and we will see you soon !!
Bit-O-Heaven Management